"When you have a difficult time like this, it's when people come up with the best ideas."
That was a quote from former J.C. Penney, Federated Department Stores, Barney's, and Neiman Marcus CEO Allen Questrom, who, in a recent CNBC article, was referring to the perceived crisis we're seeing in the retail industry recently.
Describing today's retail climate as "a difficult time" might be a bit of an understatement. In 2016, 18 retailers filed for bankruptcy. So far in 2017, between January and May, an additional 14 retailers have filed for bankruptcy. According to a S&P Global Market Intelligence report, there could be another 10 publicly traded retail companies at risk of filing for bankruptcy this year too. See the chart below for some of the most high-profile retailer bankruptcy filings in the past 14 months.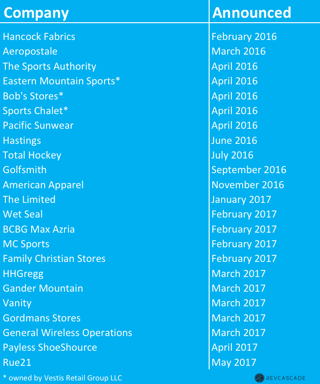 However, Mr. Questrom is exactly right in his assertion that times like these are when great ideas are born. Yes, the industry is changing. Yes, it can be unsettling to watch the likes of Payless, The Limited, and American Apparel fold; but changes in shopping habits, tastes, and technology have actually opened the door for innovation. In general, those companies that have struggled the most in recent years are the same companies that fail to innovate and evolve to meet the consumers' new demands. The companies that have thrived, on the other hand, have embraced those new demands and technologies. Perhaps most importantly, they've embraced the rapid growth of ecommerce.
Today's successful companies have avoided the "retail apocalypse" by investing heavily in ecommerce. Knowing that an online presence is necessary to reach today's consumer, companies like Toys 'R Us, LVMH, and, perhaps most notably, Walmart, are launching ecommerce-specific strategies and moving their businesses forward rather than remaining stagnant and becoming irrelevant.
In a recent Harvard Business Review interview, Walmart CEO Doug McMillon heavily espoused this notion of progressing with an emphasis on ecommerce rather than simply meandering along with the status quo. "We can't have some [Walmart employees] live in yesterday while others live in tomorrow… we need people to lean into the future," said McMillon. "The reality is that customers want everything. They want to go online to see hundreds of millions of items and to find anything they're looking for."
Walmart, the undisputed champion of big-box brick-and-mortar retail, has for years been the world's largest retailer by almost every possible measure. Success has been synonymous with the company for decades. Yet McMillion says unequivocally that his focus is not to simply maintain the company's success, but to pioneer the modernization of the business and guarantee its survival in the increasingly digitized retail landscape.
When asked about his priorities since being brought on as CEO in 2014, McMillion stated, "Walmart is more than 50 years old, and it was built with a purpose. But the world is changing quickly. When I moved into this role, it seemed clear that the board wanted me to have the mindset that I might be in the job for a while. They said: 'The company needs to go through quite a bit of change. So don't just run it. Don't just maintain it. Get it prepared for the future.' That's what we've been trying to do."
The board has to be happy with what McMillion and his team have been able to accomplish so far, as their new strategies and ecommerce-focused acquisitions have paid off tremendously. Earlier this month, Walmart released its Q1 earnings report and blew Wall Street away with its success—specifically in terms of ecommerce. It's ecommerce sales rose 63 percent in Q1, a significant increase over the 29 percent growth shown the previous quarter. Furthermore, the company's online gross merchandise volume rose 69 percent in Q1.
One of the most widely-embraced methods that retailers like Walmart are using to move their ecommerce forward is through launching dropship programs and marketplaces. There's a reason why Amazon and Wayfair, two of the most successful retailers in today's economy, base their businesses around the dropship model. As a retailer, marketplaces or dropship programs are, by their very nature, a low-risk way to dramatically grow their ecommerce footprint. Without taking on any additional inventory or associated overhead costs, retailers can rapidly increase the number of SKUs on their site, expand product assortment, and scale ecommerce revenue.
For traditional brick-and-mortar stores hoping to avoid being retail's latest casualty, launching a dropship program is a great way to either add an entirely new revenue stream or provide a huge boost to existing online sales revenue.
As Allen Questrom says, "we go through these cycles, and obviously this has been a challenging period. It's the Internet. It's understanding the millennial customer." To be sure, change can be scary, and heeding Questrom's suggestion to embrace the internet and "understand the millennial customer" is easier said than done. But sticking your head in the sand and refusing to innovate will undoubtedly lead to failure. We've already seen it 14 times this year. To succeed in 2017 and beyond then, retailers need to be proactive and progressive, whether that's through launching a dropship program or some other ecommerce-related initiative.