As a number of news outlets and retail industry publications have reported, Walmart recently announced a bold new strategy to help boost both its online and brick-and-mortar sales. "Pickup Discount" is a program wherein Walmart offers discounts on certain items if customers buy online and pick up in-store (BOPIS), a clear effort at finding a competitive advantage in the retail giant's partnership with Jet.com. While the August 2016 acquisition of Jet has certainly helped grow Walmart's ecommerce footprint, Pickup Discount could be a game-changer in that it utilizes the omnichannel capability that is unique to the Walmart/Jet partnership. More than one million of Walmart's most popular items will be available for Pickup Discount by the end of June, per Andrea Lillo of Home Furnishings Network.
The retail world will be keeping a very close eye on how Walmart's Pickup Discount program performs and what its implications are for the company as a whole. As an undisputed industry leader, Walmart's BOPIS success will be largely indicative of the practice's potential in the greater retail sector.
If all goes according to plan for the company, this could be a massive boon both for its ecommerce and brick-and-mortar sales figures. On the one hand, the "discount" deal itself will almost certainly drive more customers to Walmart's website, where they will purchase items that apply to the deal. Additionally, however, some percentage of those online shoppers will also buy other items while on the site. While it remains to be seen how large that percentage will be for Walmart specifically, other retailers have demonstrated success in this regard. Home Depot, for instance, recently announced that roughly 45 percent of its online orders are currently being picked up in-store, which helped to increase online sales by 19 percent for its fiscal year ended January 29, 2017.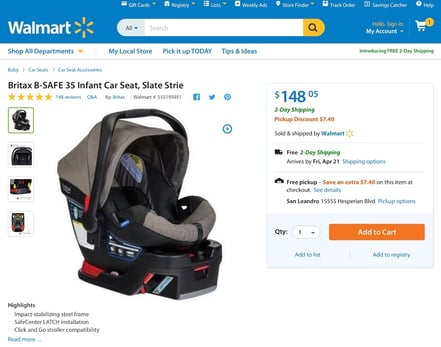 Walmart hopes eligible BOPIS items like this one will drive traffic both online and in stores
On the brick-and-mortar front, the same effect can be expected. It's been proven that when customers go to pick up an online order from the store, they often end up buying additional items. In fact, according to the International Council of Shopping Centers' Holiday Consumer Purchasing Trends Study published earlier this year, a whopping 69 percent of BOPIS shoppers purchased additional items while picking up their online orders in physical stores last holiday season. As a specific example of this, DSW reports that 40 percent of its online sales are picked up in-store, with 15-20 percent of those shoppers buying an additional item upon in-store pickup. This helped the footwear retailer boost its Q4 profit last year by 159 percent year-over-year.
Another aspect that comes into play with regard to stores optimizing their BOPIS efforts is dropshipping. The fundamental benefit of dropshipping from a retailer perspective is that they can offer their online customers an expansive product assortment with zero inventory and zero associated overhead risks. A BOPIS program, especially if you're a specialty retailer rather than a big-box, multi-warehouse store, can still utilize dropshipping and generate that all-important benefit. By having the manufacturer ship directly to one of your stores for the customer to then pick up upon ordering (a sort of dropship hybrid), you can still list infinitely more products than you actually have on hand. You can take advantage of your dropship program's low operational costs and extended aisle, and take advantage of BOPIS's ability to help your omnichannel presence.
As more and more retailers look for competitive advantages outside of the traditional brick-and-mortar arena, they ought to consider ways in which dropshipping can be used for their benefit. That could be an unconventional arrangement, like dropshipping items to be picked up in-store; but if those low overhead/high product assortment benefits are realized and bottom lines are boosted, then you can bet that "conventionality" will be thrown out the window.