If you have any sort of connection to the retail or ecommerce businesses, chances are you've heard the terms "dropshipping" and "marketplace" being thrown around constantly. In industry publications, social media and at industry tradeshows, it seems like folks are always talking about wanting to "get into dropshipping" or "sell on a marketplace" or "dropship with Amazon, Wayfair, etc." But what does all that mean? Are these just buzzwords that all mean the same exact thing?
The answer, as you'll come to realize through this article, is a resounding "no." The practice of dropshipping is a specific type of fulfillment method; a dropship program is an ecommerce model through which retailers can create curated, extended aisles; an ecommerce marketplace is an online forum where hundreds, if not thousands of brands sell their goods. Read on to hear more about each of these terms and how you can capitalize on this growing part of ecommerce.
Dropshipping Basics
Dropshipping is a shipping/fulfillment method wherein a consumer places an order with a multi-vendor online retailer, but the product's actual manufacturer or brand is the one to ship the order directly to the consumer. The dropshipping retailer does not keep any physical products in its store – it simply transmits order information from its website to the brand, which ships it onto the customer. The following graphic offers a clear depiction of the process: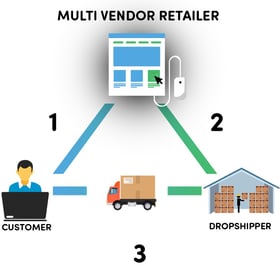 Dropshipping is a very streamlined process with many advantages, so it's clear why it's become all the rage in the ecommerce community. Retailers who dropship don't have to worry as much about stocking products and managing warehouses. They're able to offer a broader array of SKUs from existing suppliers and/or try out new vendors and product categories without much upfront cost. Brands, meanwhile, can gain access to far more retailers, reaching new audiences and generating new revenue. They too can experiment with different SKU mixes and product categories with their existing retailers, an option that would be far riskier and more difficult under a traditional wholesale relationship.
Like anything in retail, dropshipping is not without its faults. If it's not executed with the proper technology and due diligence, foolhardy merchants and manufacturers alike can lose control of all the moving parts related to shipping processes, inventory data, and product information. Companies who have employed the strategy successfully will be the first to attest, however, that dropshipping can be a huge boon for business.
Ecommerce Marketplaces
Many companies dropship through ecommerce marketplaces, which are essentially consumer-focused hubs where all sorts of brands can market and sell their items alongside each other. Amazon, eBay, Alibaba, and Walmart are some the best-known ecommerce marketplaces. Rather than limiting their number of sellers in any way or controlling and curating the items on their sites, marketplace retailers like these essentially serve as extremely recognizable, highly-trafficked virtual locations where brands can set up shop and reach tons of new customers. The brands themselves are the ones doing the actual selling and shipping on ecommerce marketplaces.
The model can obviously be a lucrative one. Amazon has been in existence for just 22 years, and already it's the fourth-most valuable company in the U.S. by market capitalization. Walmart, and eBay's success is certainly well-documented as well. But setting up an all-encompassing online marketplace is not for everyone. Many retailers who wish to maintain their merchandising power online and stick to carefully-chosen brands opt to sell third-party products through an efficient, well-organized, dropship program.
Dropship Programs
A dropship program refers to an arrangement wherein retailers carefully curate, market, and sell specific suppliers' products online to extend their selection of goods for consumers. Companies use dropship programs to expand their product offerings and their corresponding inventories, rolling out new items and new brands and generating new revenue in the process.
Crate & Barrel is an excellent example of an established retailer who launched a dropship program online to sell more items while maintaining a high level of control and discretion over their product mix. Under their dropship program, Crate & Barrel continues to market and sell different vendors' products that fall squarely in their home goods vertical, but they're able sell a wider mix in far greater quantities – an "extended aisle" with nearly unlimited shelf space. They're maintaining that same high level of curation, and the customer still progresses through the entire buying process through the Crate & Barrel lens.
Which is better?
Now that we have an idea of the key differences between ecommerce marketplaces and dropship programs, which retail model is better? Unfortunately, there's no obvious answer – it totally depends on what your company does and what it's trying to accomplish from an ecommerce standpoint.
Some brands might be aiming for access to broad audiences with low barriers to entry, in which case they'd be wise to investigate the big ecommerce marketplaces like Amazon. Other brands might have a few niche products that would benefit from hitting a targeted audience as part of a reputable retailer's dropship program.
For retailers, the same considerations are necessary. Do you want to curate what goes on your website or do you want a hands-off approach with a wide variety of sellers? Do you want to expand your inventory from an existing brick-and-mortar store or are you simply looking to launch and host a large site with thousands of SKUs from different verticals?
There is no cookie-cutter solution when it comes to anything in retail, and dropshipping is no different. Hopefully, however, this article has clarified a few things for you and enhanced your ecommerce expertise.